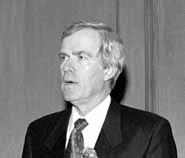 WASHINGTON -- 19 dem Senators, including Jeff Bingaman of New Mexico, voted today with the republicans to end a filibuster of the Alito nomination to the US Supreme Court.
24 other dems, and the one Independent in the Senate (Jeffords of Vermont) voted to support the filibuster.
The 19 yes dem votes to end filibuster: Akaka, Hawaii; Baucus, Mont.; Bingaman, N.M.; Byrd, W.Va.; Cantwell, Wash.; Carper, Del.; Conrad, N.D.; Dorgan, N.D.; Inouye, Hawaii; Johnson, S.D.; Kohl, Wis.; Landrieu, La.; Lieberman, Conn.; Lincoln, Ark.; Nelson, Fla.; Nelson, Neb.; Pryor, Ark.; Rockefeller, W.Va.; Salazar, Colo.
Too many dems cave. Alito will now be confirmed to the Supreme Court tomorrow, a low point in US judicial history.
Only a big shakeup of congress in the 06 elections can save our rights and liberties now.