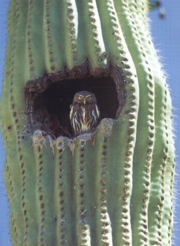 UPDATE, May 15, 2:30pm: Judge Bolton ruled against halting de-listing at this time. Important hearing set in Phoenix June 2 where she could decide owl should be protected.
Very disappointing, but this is just the first step and greens will keep doing everything legally possible to protect the owl. The owl is clearly endangered and rapidly losing habitat in southern AZ. DRP
TUCSON -- Local
greens had to go to court
Thursday to try to block the Bush administration from serving greedy developers by unjustly removing Endangered Species Act protection for the cactus pygmy owl.
Due to poor land management and political meddling from DC, it is estimated that only 13 owls are still alive in Arizona. Bush's wacko unethical position is that it's OK for the owls to die out and go extinct in the Grand Canyon State. Most Americans do not agree with the President's anti-conservation extremism.
Loss of the pygmy owl and its habitat directly relates to loss of our own quality-of-life in AZ. The
Endangered Species Act works
, and only continued ESA protection will save the owl in the Sonoran Desert.
This is a nationwide story, read about it in today's
Washington Post
or on
KVOA
.