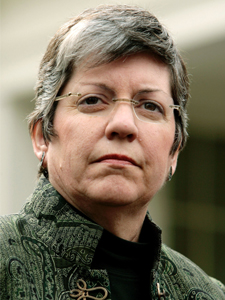 Steely Janet

TUCSON -- My guy Gov.
Bill Richardson
finished fourth in
Iowa
, but I am still pleased with the outcome of the Dem caucuses there.
Richardson
's second pick, Sen.
Barack Obama
, did win, and my number two pick,
John Edwards
, came in second. I could comfortably back either Obama or Edwards for President.
What I am most relieved by is that Sen.
Hillary Clinton
came in third. She cannot escape her support for
Bush/Cheney
's unjustified and failed Iraq war, and Iowa voters punished her for her unapologetic war votes in the Senate.
I still say
don't count out Richardson
. I think he'll likely be in the race at least the Feb 5 super-primary, and would be a great VP choice.
Dem voters should remember who wins the White House in these modern times -- it's Governors, not members of Congress. In this important area, it looks like the GOP is out front by backing Gov.
Mike Huckabee
.
Here in Arizona, I salute Gov.
Janet Napolitano
for advancing a reasonable good starting point for dealing with the
state's budget deficit
. Although it looks to be an ugly session in the Legislature as angry Republicans have already dismissed the Govs. plan, but aren't offering any reasonable alternatives.
Haven't they learned yet that this Gov. wins these fights? I guess not. On the bright side, an ugly budget fight will help Arizonans vote this fall to boot Republicans, and
elect me
and other Dems to change the majority and the tone in the Legislature.
I also thank the AZ Gov. for recently moving to extend health benefits to domestic partners of state employees. This is a smart and compassionate move that will help
Arizona attract and keep talented state employees
.